Sunday, December 25, 2005
Christmas brunch in Honolulu
I just thought that readers on the Mainland would like to know what people here do on Christmas day.
We discovered that some of them (actually, incredibly many!) line up outside Fook Lam along the river in Chinatown for a dim sum lunch. There are more people waiting than fit into the photograph--I suspect they'll be there for hours before their number is called.
We had our Christmas dim sum at Tai Pan after a reasonable wait for a table, then wandered out to observe this scene.
Tags:
Monday, December 19, 2005
First the milk, now the beer... what's left to drink?
If you didn't like reading that milk shipped to Hawaii supermarkets is not refrigerated, you're not going to like learning that there is formaldehyde in your canned beer. Not just in Hawaii, but across the country.
Worse, beer manufacturers say that you (collectively) wouldn't like your beer unless it had that characteristic whiff of formaldehyde flavor. So they make sure that it does, "or else people aren't going to accept it." In fact, referring to the emulsion used to wash the can and impart that special scent, an article in
Notre Dame Magazine
states that in the manufacture of the cans, "Extensive tests are run to make sure the lubricant and additives taste like formaldehyde." The article begins:

What's in those cans beside beer?

It can now be revealed why bottled beer and beer from a tap tastes different from beer in a can.

Be forewarned: if you're a six-pack enthusiast, you're not going to like the explanation.

When you sip a can of your favorite brew, you are savoring not only fermented grain and hops but just a hint of the same preservative that kept the frog you dissected in 10th-grade biology class lily-pad fresh: formaldehyde.

What is formaldehyde doing in beer? The same thing it's doing in pop and other food and drink packaged in steel and aluminum cans: killing bacteria. But not the bacteria in the drink, the bacteria that attacks a lubricant used in the manufacture of the can.

Read the article. It doesn't get better, it gets worse. The article is a good explanation of can making, though. And at the very end it confirms what I've long suspected--that the can costs many times more than the cost of the beverage inside it.
Tags:
Saturday, December 17, 2005
An apple pie the size of Mt. Haleakula
There it was -- in the glass counter to our left as we waited in line to order lunch at
Nico's at Pier 38
this morning -- an apple pie so huge that it looked like one of Hawaii's famous volcanos covered with pie crust.
Folks, this is
NOT
one of your flat Costco apple pies! This one is reaching for the sky, about to burst up out if its shell.
I apologize for not having a camera with me. And now it's too late, because we asked if they would cut a slice for us after lunch, and they did.
Of course, the lunch was wonderful. I'll skip the details because this is about a superpie, and I know you want to hear about that. The generous wedge was layer upon layer of apple slices, each still crisp and dusted with cinnamon. It came with two forks, so we alternated grabbing a hunk of pie and making satisfied noises, you know, like "yum", "delicious!", "ummm.. ummm!". And we were enjoying this scrumptious dessert in an outdoor setting, amid the gently swaying masts of nearby fishing boats, breathing the mellow morning ocean air.
Indeed, there is only one pastry chef on the island who could have created this pie: Samantha Choi, who used to be at the Grand Café but whose products are now at Nico's (read more about the switch in
this Diner Dish article
over at
HawaiiDiner.com
.
Sami's pies are available for the holidays, according to a flyer at Nico's. No apple pie, unfortunately, but you have a choice of Old Fashioned Chocolate Cake, Carrot Cake with Orange Cream Cheese Icing, Chocolate Peanut Butter Cake, Lemon Glazed Cheesecake, Blueberry Cheesecake, Chocolate Peanut Butter Banana Cream Tart, Chocolate Caramel Pecan Tart, Lilikoi Haupia Tart, Lilikoi Chiffon Pie, Lemon Meringue Pie, or Custard Pie. Visit Nico's
website
for directions, hours, info on daily specials and their email list.
Nico's at Pier 38
1133 N Nimitz Hwy
Honolulu, Hawaii 96817
(808) 540-1377
www.nicospier38.com
Thursday, December 01, 2005
Silicone at sweatshop prices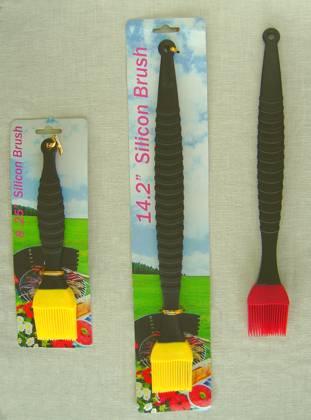 Which is the high-price spreader?
Well, the one on the right was purchased at Executive Chef on one of their 25%-off sale days. I don't recall how much we paid for it, but at a recent visit, similar basters varied from $12.50 to $17.97 and even unto $23.97 (or .95?).
The two on cards were purchased at Marukai's 99¢ shop. Yup, for 99 cents. The business end looks identical, and the handles are virtually identical (not quite, the expensive one is a bit shinier in finish).
Although silicone bakeware and utensils have become the latest rage, I have often wondered if the high price is justified. How much does that spatula cost when it is packed at the sweatshop door someplace in Asia?
Daiei has a $1 shop. The items are similar but not the same. Have fun by visiting both. Daiei may have the edge on plastic baskets of various sizes, which have been essential in organizing the Free Range Gourmet household. The Marukai store has just introduced $1.49 items, so I wonder if the prices will creep up along with everything else these days. Finally, the shelves can go bare until the next boat comes in, so try again another day if pickings seem slim.
Addendum: for those of you who will rush over to the Marukai 99¢ shop to get one of these basters, they did have a few the other day, but The Freerange Gourmet has too many readers, so be prepared to find them sold out. On the other hand, there are plenty of other 99¢ items that you could walk away with in consolation. Most are junk, or won't last long, but others are useful and can be found selling for $2.99, $3.99 or more at Shirokiya or 99 Ranch Market. Many other items can't be found elsewhere.