Sunday, October 30, 2005
Scary Dairy -- Frightening food news for Halloween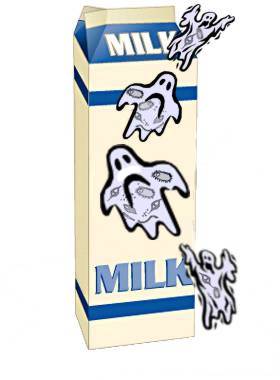 A few paragraphs embedded in Joan Namkoong's excellent article "Farm 2 Table" in the October 2005 issue of Honolulu Magazine should have made everyone afraid -- very afraid. But so far I have not noticed any consumer reaction to the revelation, on page 7 of the article, that
milk sold on Oahu spends at least four days in transit from the Mainland without refrigeration
, and is then re-pasteurized here to make it suitable again for consumption.
First, Joan points out that the brands one finds in supermarkets all come from the same source and plant on the Mainland. So buying a different brand probably won't make a difference.
Honolulu Magazine doesn't have on-line archives, so I can't link to the article. But I'll bet that this short excerpt will be enough to get the chill running up and down your spine:
"What's interesting--and a bit alarming--is that Hawaii-bound milk is pasteurized in California before shipment, then placed in insulated (but not refrigerated) containers for shipment to the Islands, according to Chin Lee, dairy extension specialist at the University of Hawaii's College of Tropical Agriculture and Human Resources. Once the milk arrives at Meadow Gold, a minimum of four to five days after pasteurization, it is pasteurized again before it is bottled.
"Hawaii is the only state that allows repasteurization of milk, says Lee, which can pose a food safety issue."
How do you feel now? Did you drink any milk today?
I'm sure that one can pasteurize most anything and then drink it, but do we really want to do that?
At the Free Range Gourmet we drink organic milk in order to avoid BST, antibiotics and any other evil that might be found in commercial milk. So I was wondering if organic milk brought into Hawaii was also shipped warm, and began calling around. Organic Valley's Quality Assurance Department confirmed that they ship milk chilled--they do not ship their milk warm and then re-pasteurized it. I'll be checking on the other commonly available organic milks: Safeway's organic milk, Costco's Kirkland brand and Horizon. Probably they do not ship warm either.
If you've noticed that a container of milk smells funny or turns bad quickly, or if you think it might have made you sick, perhaps it is related to how it is handled on the way to Hawaii. I wonder if whatever toxins the bacteria produce as they happily multiply during their long ocean voyage remain in the milk despite the re-pasteurization process.
Remember, we're the only state that permits re-pasteurization of milk. Maybe there's a good reason -- or maybe there's a price we're paying in nutrition and/or health.
Thursday, October 13, 2005
Spared again by the `Ilima awards
I'll have to say that I read the
`Ilima Awards
with just a little trepidation each year, hoping that my favorite spots will again escape notice. And so they did. The endless throngs will once again bypass the best Thai food on the island, for example, at
Club New Pattaya
(warning: Kookie, their star chef, is away until October 27).
For commentary on the `Ilima Awards that you won't find in print media (including a few alternate suggestions), check out these two articles over at
mā`ona:
.
Tuesday, October 11, 2005
Grand crescendo at Grand Café
Last week we did First Friday in style. The Grand Café is usually open only for breakfast and lunch, but they do have a special menu for dinner on First Fridays. We wish they were open for dinner more often, but certainly we wouldn't miss the one chance each month to try what the exceptionally talented staff have prepared for the festive evening.

Our first objective was the Louis Pohl Gallery to take in the Healing Passages & Gestures exhibit which included several moving works by Playworks studio's Nan Holmes (No link -- PlayWorks has managed to get along all these years without a website. It's a studio offering process painting and creative sandplay located in Nuuanu -- call Nan for info at 528-2433). Nan's work always has that healing quality, and was a great place to line up our chakras for the rest of the evening.

It was drizzling lightly, so we headed directly over to the Grand Café, figuring everyone else will soon be doing the same and a table will be harder to get. We learned that a table would be open in about 20 minutes, leaving us time to run next door to HASR Wine Company for their tasting that evening.

Well, everyone who was not already in the Grand Café was at HASR. And it was a happy crowd. We ran into several friends and neighbors, confirming that everyone worth knowing was indeed at HASR (if you weren't there, don't worry, First Friday occurs once each month, you can make the scene next time). The crowd bubbled over into the courtyard.

Twenty minutes was certainly not enough to both chat and sip, but we did manage to try some wines that were priced at the top of the scale and some that were affordable, and walked away with one that we liked -- and one to take next door to enhance our dinner.

Elbowing our way into the Grand Café, we were shown to our table, which was between two huge parties. To my right was a table set for eight, and on the left were ten people already deep into their meal.

Nanette ordered the Rack of Venison, which was served with a blackberry sauce, mashed potatoes and broccolini. I chose the Seared Duck Breast with mushroom and duck confit risotto with Kirsch cherry sauce. Both were awesome, and the service was attentive. We were getting into the party spirit, just we two.

And then it began. Eight noisy, happy diners to the right of us. Ten to the left of us, and lots of other people in the restaurant, a line also forming inside to the door. The Grand Café is always "live", they don't go in for sound absorbing material very much. So we get used to speaking louder than usual when we go there. "How's the venison?" I shouted, but I wasn't understood. "The venison, how is it? V-e-n-i-s-o-n" I said, while pointing impolitely. But then I couldn't make out the answer.

The folks at the tables to the right and left of us were shouting also to be heard, and because they were enjoying the food and the company immensely. They began to talk louder and louder. I couldn't believe it, but the sound level had reached a point where I don't think I could have made myself understood, and probably others were having the same experience. Because the sound level was so high, people were speaking louder, which of course increased the sound level even more!

I don't know if science has a name for this effect -- so for the moment, I dub it the "Grand Café Effect." It's ok -- we can talk later. For the moment we were enjoying our food in silence, a silence so deafening that no talk was possible. No cell phone interruptions either, couldn't hear any cell phones.

After a few minutes the crescendo abated, and the party of ten began to depart. A cell phone rang. All was back to normal.

After sharing an amazing dessert, we departed, just as the next party of ten was being seated.

Don't miss the Grand Café on First Friday. All of your friends will be there, at least the ones worth knowing. There, or they'll be next door.

Grand Café & Bakery
31 N. Pauahi St.
Honolulu, HI 96817
(808) 531-0001
M-F 6:30 a.m. - 2:00 p.m.
Saturday 7:30 a.m.- 1:00 p.m.
First Fridays only:
5:30 - 8:30 p.m.