Info:
Jun 20 • Wed • 7:00-9:00pm • Yukiyoshi Room, Krauss Hall 012 • Free • Call 956-8246 for more information and disability access.
Presenter:
Ira Rohter
Description:
Unser täglich Brot (2005)

Welcome to the world of industrial food production and high-tech farming! To the rhythm of conveyor belts and immense machines, the film looks without commenting into the places where food is produced in Europe: monumental spaces, surreal landscapes and bizarre sounds - a cool, industrial environment which leaves little space for individualism. People, animals, crops and machines play a supporting role in the logistic of this system which provides our society's standard of living.

Our Daily Bread

is a wide-screen tableau of a feast which isn't always easy to digest - and in which we all take part. A pure, meticulous and high-end film experience that enables the audience to form their own ideas.
The film is introduced by UH professor Ira Rohter with a question and answer discussion to follow.
Ira Rohter
, Ph.D., joined the University of Hawaii in 1968 and regularly teaches courses in the Politics of Hawaii, Political Ecology and Development, Environmental Politics, and alternative futures. Rohter authored
A Green Hawaii: Sourcebook for Development Alternatives
, was a founding member of the Transformational Politics section of the American Political Science Association, and, in 1992, helped found the Hawaii Green Party.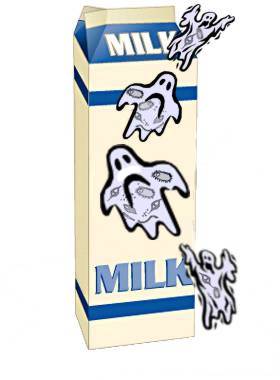 The recent Honolulu Advertiser story,
Bacteria levels souring Hawai'i milk?
should leave Hawaii consumers concerned about the high spoilage level of the milk they drink. Following on the heels of national
e coli
and melamine contamination scares, this only adds to our uncertainty about the safety of our food supply.
Long-time readers of The Freerange Gourmet already know the rest of the story--the part that the Advertiser didn't tell you--and which you need to know before you pour another glass of milk for your kids: milk is shipped to Oahu from the Mainland in unrefrigerated containers.
We wrote about this 'way back in 2005 in two articles. The first, Scary Dairy -- Frightening food news for Halloween, included this citation from an even earlier Honolulu Magazine article by Joan Namkoong:
"What's interesting--and a bit alarming--is that Hawaii-bound milk is pasteurized in California before shipment, then placed in insulated (but not refrigerated) containers for shipment to the Islands, according to Chin Lee, dairy extension specialist at the University of Hawaii's College of Tropical Agriculture and Human Resources. Once the milk arrives at Meadow Gold, a minimum of four to five days after pasteurization, it is pasteurized again before it is bottled.

"Hawaii is the only state that allows repasteurization of milk, says Lee, which can pose a food safety issue."
We asked then and ask again today: "How do you feel now? Did you drink any milk today? I'm sure that one can pasteurize most anything and then drink it, but do we really want to do that?"
After a few phone calls we learned that Costco brings its milk to Hawaii in refrigerated containers. We had already been buying our milk at Costco, and we're certainly not going to switch now, after the Advertiser story.
Let me repeat Mr. Lee's warning, "Hawaii is the only state that allows repasteurization of milk, says Lee, which can pose a food safety issue," and ask why this important fact didn't appear in the Advertiser story? Would the paper have lost Meadow Gold as an advertiser if they revealed the awful truth about the milk we drink in Hawaii?
A large crowd gathered all morning to leave flowers and express condolences at a tent set up at the KCC Saturday Farmers Market. [posted from cellphone camera]
A flock of TV reporters descended on the tent later on, so there should be something on KITV and KGMB at least on tonight's news.


(click image for better picture)