Thursday, February 23, 2006
Carbon dioxide used in meat packaging to mask spoilage

The blogosphere and the press are abuzz after reports appeared that the Consumer Federation of America had urged the government in January to ban the use of carbon monoxide in meat packaging.
While the gas itself is safe in the quantities used, the effect of its use in packaging is that meat retains its appealing red color even if it has spoiled. Since most consumers wouldn't buy discolored meat, the gassing means that stores reduce their losses from discarding meat that can't be sold--and consumers take home the bad meat instead.
One article
summarizes the situation very well:
Consumer groups agree that carbon monoxide by itself is not a health risk, but meat buyers will be carried away by the color of the meat that is made possible by the gas rather that the expiry dates. The Consumer Federation of America told the FDA that carbon monoxide masks the natural coloration of meat by reacting with myoglobin in the meat and producing a bright red color. The artificial color has been found to last 'beyond the time of spoilage,' thus masking the true color and freshness of meat packaged with carbon monoxide."

Kalsec, which has represented the case before FDA, says carbon monoxide-treated meat could be left exposed at home for several days, but it would still look bright red and fresh. It says carbon monoxide suppresses bad odors and the presence of slime and other telltale signs of spoiled meat. It can also hide the growth of pathogens.
Ugh!
Although the use of carbon monoxide in the packaging of meat and tuna is banned in the European Union, apparently our own FDA has no problem with it (don't blame me, I voted for Kerry). Canada, Singapore and Japan also disallow the use of carbon monoxide treatment for packing tuna.
I first heard about this new outrage in a short podcast produced by WSQT Guerilla Radio from Washington, DC. Click
here
to listen.
Other articles include
here
(with pictures), and
here
. A
Google search
will turn up many more articles.
Tags:
Wednesday, February 08, 2006
Nico's extended hours a boon for Honolulu diners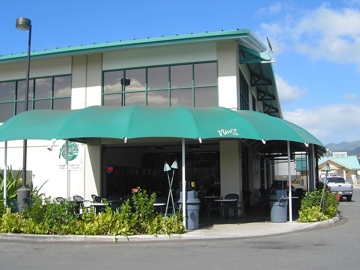 We visited Nico's today and have great news to report--as of this week, they are open until 6 pm. The sign outside still has the old closing time of 2:30 p.m., but you're now privy to the secret.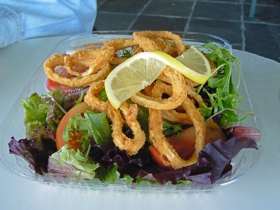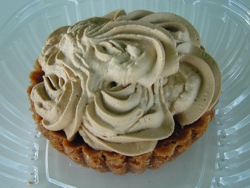 Pictured above is the fried calimari and Sami Choy's Toffee Banana Tart with Coffee Whipped Cream. We had one of those with lunch and also picked up a slice of her scrumptious apple pie to take home for dinner. The tart was well made, but I guess we're just not into coffee whipped cream. Or else it was the apple pie slice that was on our minds.
Speaking of apple pie, if you crave one of these, you'll need to know that Sami will be on vacation from Valentine's day until March 1, and then again from March 28 until April 28. She's going to stock Nico's freezer with the things that can be frozen, however better place an order for that apple pie (whole pie a steal at $20) or for her other fresh pastries.
Nico's at Pier 38
1133 N Nimitz Hwy
Honolulu, Hawaii 96817
6:30 a.m. -- 6 p.m. Mon-Sat
(808) 540-1377
www.nicospier38.com
Saturday, February 04, 2006
Disappearing nutrients on our dinner tables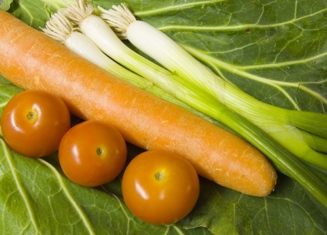 According to
an article in The Guardian of London dated February 2, 2006:
The mineral content of milk and popular meats has fallen significantly in the past 60 years, according to a new analysis of government records of the chemical composition of everyday food.
The analysis, which refers to UK products, presents the following details:
The levels of iron recorded in the average rump steak have dropped by 55%, while magnesium fell by 7%. Looking at 15 different meat items, the analysis found that the iron content had fallen on average by 47%. The iron content Aof milk had dropped by more than 60%, and by more than 50% for cream and eight different cheeses. Milk appears to have lost 2% of its calcium, and 21% of its magnesium too.

Most cheeses showed a fall in magnesium and calcium levels. According to the analysis, cheddar provides 9% less calcium today, 38% less magnesium and 47% less iron, while parmesan shows the steepest drop in nutrients, with magnesium levels down by 70% and iron all gone compared with its content in the years up to 1940.
This reminded me of a similar article I had read a number of years ago that originated here in the USA. Fortunately, Google also remembered it, and I can report that things seem to be no better here at home.
The article
Vegetables Without Vitamins
reports shockingly similar results. The UK study compared nutritional tables published in 1940 and again in 2002. US author Alex Jack compared US Department of Agriculture food tables from 1973 and 1997.
This article
mentions some findings:
Collards are not the greens they used to be. If you're eating them for minerals and vitamin A, be aware that the vitamin A content has fallen from 6500 IUs to 3800 IUs. Their potassium has dropped from from 400 mg to 170 mg. Magnesium has fallen sharply-57 mg to 9. Cauliflower has lost almost half its vitamin C, along with its thiamin and riboflavin. Most of the calcium in pineapple is gone-from 17 mg (per 100 grams raw) to 7. And the list goes on and on.
In a 2004 article, The Disappearing Nutrients in America's Orchards
, Alex Jack asks:
"Will an apple a day with 40% less vitamin A, 40% less iron, and 30% less phosphorus still keep the doctor way?"
There is additional data
that points to a decline in the nutritional value of eggs due to increased factory-farming:
These factory-farm eggs contain significantly less health-enhancing carotenes that eggs from a pasture-raised chickens. This difference is easy to see because the more carotenes, the more orange in color the yolks are. Factory-farm aggs also are lower in vitamin E, vitamins B-12, vitamin A, folic acid and omega-3 fatty acids, according to a remarkable collection of studies assembled by journalist Jo Robinson on her web site, www.eatwild.com. Robinson also documents that not only do factory-farm eggs contain less vitamins, they have more fat and cholesterol than eggs from pastured poultry.
The Longevity Institute
, reviewing this issue, states the concern well for anyone who must plan a family's nutritional needs or who is interested in influencing public policy decisions:
Soil and agriculture experts assure there is a sufficient mineral supply in soils for plants to thrive well. We have no reason to oppose their views. We are not concerned with the well being of plants. We are concerned with the health of the people eating the plants.
It's not clear that there is significant public awareness that our food supply is being systematically degraded. Who is working to inform the public and to work to restore nutrient levels in the common foods we consume each day? While the Slow Food movement seeks to preserve endangered food, what organizations work on the concerns raised in the Guardian article just published?
This data is quite shocking. Especially if you believe that we are what we eat
.
Tags: