Tuesday, February 22, 2005
Road to Singapore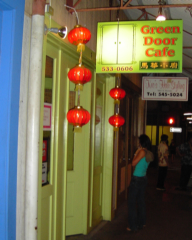 When I think of Singapore, I always think of great eating. So when a "Nonya" style restaurant opened in Chinatown, I looked forward to revisiting somehow the culinary treats that I enjoyed at my favorite eating spots in Singapore and Malaysia.
Bing Crosby, Bob Hope, and Dorothy Lamour starred in the
Road to Singapore
, the first of the popular
Road
series. In 1940 when this film was made, Hope was just a newcomer comedian and was billed third, after the other two. Food figures into the movie: along the way, we are treated to a lot of corn (sorry), and also "Captain Custard" and "Sweet Potato Piper".
We can get to Singapore via Honolulu's Chinatown, and on this road, Hope comes first. Our destination is the Green Door Cafe, where Betty Pang holds down the kitchen and the serving chores all by herself. There are only four tables -- this is a compact dining space with the kitchen close by. After ordering, the room is filled with the pungent, spicy and aromatic scents of
belachan
,
galangal
,
lemon grass
, and other ingredients characteristic of the
nonya
cuisine of Singapore and Malaysia. You're experiencing your order in the making. Just like a similar tiny eatery in Singapore, where the cooking smells, piped out to the street, are an advertisement for the restaurant. Indeed, I flashed back to the Katong neighborhood of Singapore where one can enjoy
laksa
for breakfast and other Chinese/Malay dishes any time of day. All it takes is some belachan fumes and I am transported!
(Probably I'm misusing
nonya
. Singapore's indigenous cuisine is properly called
Peranakan
- which simply means "born here" in Malay.)
The menu at the Green Door Cafe is written on a whiteboard and can change every day. There may be fried fish or pork loin -- or another Singapore or Malaysian specialty. You can consult with Betty about the day's choices. Don't miss the
roti canai
flatbread which can be eaten along with a dish or dipped into the sauces or juices.
My thanks to the review in the Honolulu Weekly for introducing us to this fine dining experience.
Green Door Cafe
1145 Maunakea St.
(entrance on Pauahi St.)
(808) 533-0606
Tuesday–Sunday 11:00 a.m.–3:00 p.m. and 5:30–8:00 p.m.
Monday, February 21, 2005
Warm up with Korean sundubu
I remember that on many a cold night in Seoul in February I would run across the broad street fronting the sterile Lotte Hotel in order to escape into the warren of little shops and restaurants with irresistible spicy things boiling or boiling behind foggy windows and glass doors. Customers ate bundled in heavy outerwear, their breaths steaming as much as the kettles of tea. I was never dressed warmly enough for the bone-chilling cold, so I needed to choose which place I would duck into fairly quickly.
My crash course in Hangul didn't help much because I didn't know what the food was or what it was called. I was a stranger in a strange land, but happy as could be. No matter which shop I might enter, I would enjoy a feast. And although it cost very little, it would be more satisfying than anything I could find back at the hotel.
Honestly, I tried to avoid February when I could. Seoul is much more pleasant in Spring, Summer or Fall. But I'm imprinted by my experiences in the cold winter, so that when the mercury tumbles in Nuuanu (all the way down to the 70's or something), I get that urge for a steamy pot of sundubu jjigae. Except that until recently I didn't know that I could find it here, or exactly what it was called.
This evening was a bit chilly so we set off for
Sogongdong Restaurant
, across Kapiolani Blvd. from Tower Records.
At this point I have to do something unconventional and send you elsewhere. The real expert on this cuisine and this restaurant is Sun-Ki Chai, moderator of the eGullet Hawaii forum. His restaurant reviews are excellent, and unfettered by limitations one might find in a newspaper, he takes the space that is needed to do justice to an unusual restaurant or cuisine. Plus, he includes fabulous photos you won't find elsewhere. So without further ado, please check out his thread:
So Gong Dong, Chodang Restaurants, Korean Soft Tofu
.
We got there about 6 p.m. this evening and just beat the crowd. I understand that they take reservations, and that might be a good idea for anyone planning to arrive later. Not that you'll freeze waiting outside, but why not be prepared.
We've enjoyed everything we've had at Sogongdong. Usually we each have one of the sundubu choices and share one other dish. Although we order "spicy", the spice level isn't challenging.
After reading Sun-Ki Chai's thread, how long can you stay away? Try this now, before it gets too warm in Honolulu.
Sogongdong (website with menu:
http://www.sogonghawaii.com/en/index.htm
)
1489 Kapiolani Blvd.
Honolulu, HI 96814
(808) 846-8206
http://www.sogonghawaii.com/en/contactUs.htm
See
map
or you might miss the parking lot.
Tuesday, February 08, 2005
A Bigger Little Village
We just returned from dinner at Little Village, one of our favorite spots
in Chinatown, where we tried the lamb stew featured on the
blackboard menu (which also listed Volcano Pork Chop, wonder what
that is...?). The stew was served over a table burner so it continued to
simmer and develop as we enjoyed it. Strong presence of ginger and
of course bones and things that make a really rich stew.


Little Village has taken over the space next door, masterfully
redecorated it, and is now able to handle extra-large family banquets.
They also recently added one of those state-of-the-art touch-screen
computer ordering systems, so "little" Little Village is obviously geared
up for the big time in Chinese dining.


The first thing to catch your eye will probably be the mural of a Canton
valley in the expanded dining area. The new space also includes a
formal dining room towards the rear. In fact, a loud birthday party was
in full swing so that we had to shout a bit just to discuss the menu.
The acoustics are very live in the new space.


Ceiling lights shaped like gourds bring some continuity between the
spaces--otherwise, as you cross the little bridge between the old and
the new, you're entering a new environment.


Little Village is also a good bet if you're headed for the nearby Hawaii
Theater or Arts at Marks Garage. When we were running a bit late
one day they were very helpful in expediting our order so that we
enjoyed our meal and still made the show with time to spare.

Little Village Noodle House
113 Smith Street
Honolulu, Hawaii 96817
(808) 545-3008

Free parking!