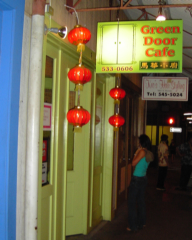 When I think of Singapore, I always think of great eating. So when a "Nonya" style restaurant opened in Chinatown, I looked forward to revisiting somehow the culinary treats that I enjoyed at my favorite eating spots in Singapore and Malaysia.
Bing Crosby, Bob Hope, and Dorothy Lamour starred in the
Road to Singapore
, the first of the popular
Road
series. In 1940 when this film was made, Hope was just a newcomer comedian and was billed third, after the other two. Food figures into the movie: along the way, we are treated to a lot of corn (sorry), and also "Captain Custard" and "Sweet Potato Piper".
We can get to Singapore via Honolulu's Chinatown, and on this road, Hope comes first. Our destination is the Green Door Cafe, where Betty Pang holds down the kitchen and the serving chores all by herself. There are only four tables -- this is a compact dining space with the kitchen close by. After ordering, the room is filled with the pungent, spicy and aromatic scents of
belachan
,
galangal
,
lemon grass
, and other ingredients characteristic of the
nonya
cuisine of Singapore and Malaysia. You're experiencing your order in the making. Just like a similar tiny eatery in Singapore, where the cooking smells, piped out to the street, are an advertisement for the restaurant. Indeed, I flashed back to the Katong neighborhood of Singapore where one can enjoy
laksa
for breakfast and other Chinese/Malay dishes any time of day. All it takes is some belachan fumes and I am transported!
(Probably I'm misusing
nonya
. Singapore's indigenous cuisine is properly called
Peranakan
- which simply means "born here" in Malay.)
The menu at the Green Door Cafe is written on a whiteboard and can change every day. There may be fried fish or pork loin -- or another Singapore or Malaysian specialty. You can consult with Betty about the day's choices. Don't miss the
roti canai
flatbread which can be eaten along with a dish or dipped into the sauces or juices.
My thanks to the review in the Honolulu Weekly for introducing us to this fine dining experience.
Green Door Cafe
1145 Maunakea St.
(entrance on Pauahi St.)
(808) 533-0606
Tuesday–Sunday 11:00 a.m.–3:00 p.m. and 5:30–8:00 p.m.