Friday, July 29, 2005
Paper by John Ikerd: Farming in the Future: The Triple Bottom Line
John Ikerd has written some wonderful scholarly papers on small farms.
"The new crop producers may label their products as organic, natural, biodynamic, holistic, ecological, or simply rely on being local as a market advantage.  Producers of meat, milk, and eggs may further distinguish their products as humanely raised, hormone and antibiotic free, free-range, or grass-fed.  But, these new farmers are set apart from commodity producers, not so much by size, or products, or markets, as by their philosophy of farming and their philosophy of life.  The size, products, and markets are simply a reflection of their philosophy.  They are farming not just for profits; they are farming for better overall quality of life – and many are finding it."
More papers by John Ikerd can be found at:
Sunday, July 24, 2005
Summer Frappè - try a durian smoothie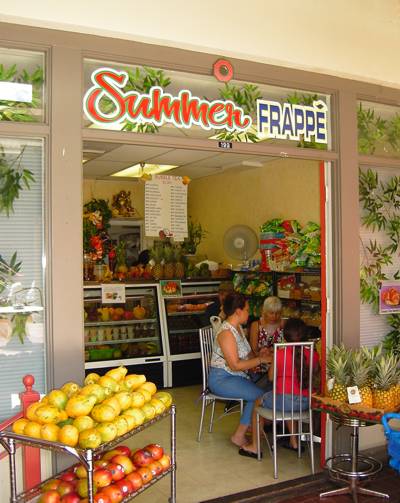 Durian
can be found in more and more places in Hawaii. We went to the
Maunakea Marketplace
in
Chinatown
in search of a cool drink. The stall I was looking for was gone, so we wandered around and eventually stopped in at the Summer Frappè, which is located outside the food court, facing the inner open courtyard.
On the menu was a durian smoothie or shake, which of course I couldn't resist trying. It had a good durian flavor, reminiscent of the fruit which we love.
In the refrigerated glass counter are fresh fruits, mango, papaya, durian, pineapple, and others -- but some drinks are made with syrups. They will also make fresh fruit drinks. Check the menu.
If you like your durian drink, save up and buy a durian of your own at the KCC Farmers' Market one Saturday.
Summer Frappè
1120 Maunakea St. #192
Honolulu, HI 96817
(808) 728-3180
Every day 7:30 a.m. - 6:00 p.m.
Saturday, July 16, 2005
Market Forces - $7 breakfast? No thank you
I just gotta draw the line someplace. Today we voted with our feet and decided not to buy Chef Chai's featured breakfast at the KCC Saturday Farmers' Market. And to blog about it here, because I think it's important to share this view.

I am willing to pay more at a farmers' market for fresh-picked Island-grown produce -- it tastes better, I'm supporting a local business and the concept of sustainable agriculture, and no oil or jet fuel was expended to bring it here. I love the products sold at the market that are made from local ingredients for similar reasons.

Besides shopping, the market is a happening -- food, music, the chance to meet friends with similar interests, the chance to meet farmers and discuss what they have brought with them. The markets bring town and country closer together.

Once upon a time everyone shopped at a market. Then and now, vendors compete with the best products and prices for the customers' money. In return, shoppers tend to build loyalty to a particular vendor and return week after week.

Part of the attraction of the KCC Saturday market is that each week different restaurants or caterers are featured with one or more breakfast offerings. There's music, and usuall a place to sit in the shade and enjoy a fresh breakfast as part of the total experience.

But a market is a market, and this morning I think I and other shoppers standing in front of Chef Chai's tent looked, sniffed, asked, and mostly didn't buy. I didn't see the long lines that typically form and might have formed today. I can tell you why we chose to give this a pass.

First, there was no menu, no sign. Everyone had to ask, "What is it?". "How much?". The answer to the second part was $7, which I think is over the $5-$6 barrier for a morning market. Oh, what was it? Loco Moco with braised shortribs, which was probably excellent, but maybe for lunch and maybe not at the market at that price. Chef Chai was there, and I don't know if he considers his visit a success or not, but I hope he'll come back and do it differently, more in the spirit of a morning market.

So what did we eat? There were several other choices. We mosied over to Kaiulani's Kitchen where Greg Yee of Blue Lotus Farms had a large sign out with several breakfast choices. We picked Kalua Chicken with cabbage, kim chee and rice. $5.

We also have not purchased as much durian as we'd like to. At $2.50 a pound, a 10-pound durian is quite an investment. We love durian and it's worth buying, but again -- market forces. The frozen kind in Chinatown don't compare (I'm ashamed to mention them in the same paragraph) but they can be had for under a dollar a pound.

I have no way of knowing if $2.50/pound is a fair price -- I'm sure it is, that's not the point really. Durian is in high demand, and probably they can sell as many as they bring over at that price. Indeed, that's also market forces at work (in Singapore, even poor people will scrimp and save in order to be able to buy a durian once and awhile).

I hope the fine breakfast offerings will continue at the KCC market, and I'm also hopeful that they will hold the line on price. Sure, the folks from nearby Kahala won't blink at the chance to enjoy a Chai's Bistro breakfast, but they are in the minority. Shopping at the market should be a rewarding experience for everyone.





Friday, July 01, 2005
Eat Feed podcast features the "Flavors and Foods in Hawaii"
Anne Bramley
, food historian and host of the popular
Eat Feed podcast
, featured Hawaii foods and cuisine in her latest show (
click here to download or listen
).
Anne interviewed our own popular food writer and farmers' market pioneer Joan Namkoong, and also went (electronically) to the Big Island to speak with Peter Merriman on Hawaii Regional Cuisine.
This is not only a great program, fun and informative, it is great publicity for Hawaii and its cuisine.
Eat Feed
is currently the most popular podcast in the
Food and Drink category at Podcast Alley
.
If you enjoy the podcast, please
click here to cast your vote for Eat Feed
and keep it right up there in the ratings.