Slow Food Hawaii Convivium Leader Nancy Piianaia has just announced to members that Kalo Poi Taro has just been accepted to the Ark of Taste at the Ark and Presidia Committee's annual meeting in Madison, Wisconsin.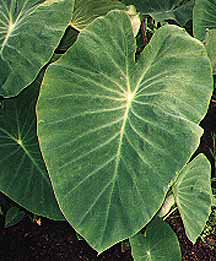 In total, 75 new foods boarded the Ark. In addition to taro, Traditional Sea Salt From Hawaii is expected to be confirmed shortly pending completion of the application.
What is this Ark? First, a few words about the Slow Food movement and organization:
About Slow Food
Recognizing that the enjoyment of wholesome food is essential to the pursuit of happiness, Slow Food U.S.A. is an educational organization dedicated to stewardship of the land and ecologically sound food production; to the revival of the kitchen and the table as centers of pleasure, culture, and community; to the invigoration and proliferation of regional, seasonal culinary traditions; and to living a slower and more harmonious rhythm of life.
"The Slow Food Movement (is) a defiant determination to preserve unprocessed, time-intensive food from being wiped off the culinary map." -New York Times Magazine
Carlo Petrini is President and Founder of the Slow Food Movement. Petrini founded Slow Food as a response to the opening of a McDonalds in Piazza Spagna in Rome in 1986. It is kind of a resistance movement to the fast food era that seems to have spread all over the world.
Complete information on the movement can be found here. The International organization now has over 65,000 members on five continents. There is a large Slow Food USA membership, with 5,500 people sharing in the movement countrywide (local groups are called convivia).
Hawaii has an active Slow Food group. Learn about or join Slow Food USA at the Slow Food USA website or call them at (718) 260-8000. For information on Hawaii programs and activities call Nancy Piianaia at (808) 885-6085.
Slow Food is more than a serious movement. At Hawaii events we often have simply the best food you will find anywhere on the Islands. Even the potluck events are outstanding. We are also blessed with a dedicated and hard-working convivium leadership that has supported the rapid growth of the local organization, particularly on Oahu and the Big Island.
What about this Ark project?
From the Slow Food Foundation web page:
"The Ark of Taste aims to rediscover, catalog, describe and publicize forgotten flavors. It is a metaphorical recipient of excellent gastronomic products that are threatened by industrial standardization, hygiene laws, the regulations of large-scale distribution and environmental damage.
"Ark products range from the Italian Valchiavenna goat to the American Navajo-Churro sheep, from the last indigenous Irish cattle breed, the Kerry, to a unique variety of Greek fava beans grown only on the island of Santorini. All are endangered products that have real economic viability and commercial potential."
The addition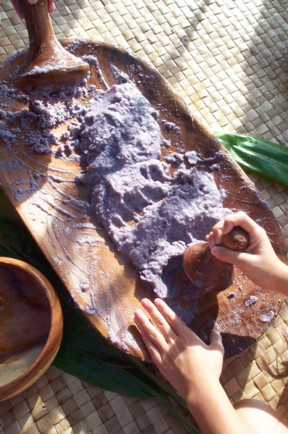 of poi taro to the Ark will bring worldwide attention to this endangered staple food of Hawaii and Polynesia. Slow Food Hawaii convivium leaders FedEx'd prepared poi to be sampled by the 12-member committee meeting in Madison, Wisconsin.
For an explanation of the natural history of kalo in Hawaii, see for example this web page .
I encourage anyone seriously concerned with preserving heirloom foods to consider becoming a member of the Slow Food movement. At least, click around some of the links I've given and learn what it is all about. The movement is alive and well in Hawaii. When you join Slow Food U.S.A. you receive a subscription to the international publications and automatically become a member of the Hawaii convivium.
The Slow Food movement in Hawaii mirrors the national and international organization in advocating to help preserve native varieties of fruits and vegetables, promoting local and traditional cuisine and preserving culinary and farming knowledge.



Yes, our favorite neighborhood eating place is safe from discovery by the multitudes for one more year. Club New Pattaya has been overlooked again for an `Ilima Award. Never mind that it probably has the best Thai food in Honolulu. And coincidentally -- it is located exactly one block from where we live.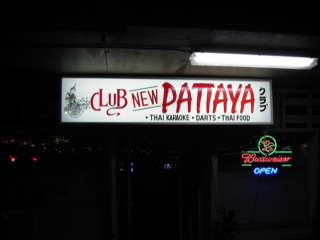 We originally saw an intriguing review of Club New Pattaya in the Honolulu Weekly. To be honest, were it not for the review, we would have walked quickly past, on our way to some Chinatown eatery.
After all, when looking for great food, who would think of dropping into a place with darts, karaoke, TV screens, happy hour and all the other trappings of a typical club?
The Weekly review promised outstanding Thai food and that's exactly what Club New Pattaya delivers. We started with one of the Weekly's recommendations, the fried catfish, and have since worked our way through almost every dish on the menu. Dishes are $8.00 to $10.00, and none has disappointed. They serve Singha beer ($3.50) for the complete Thai experience. Bring cash for the beer, credit cards ok for food.
The Tom Yum Kung (spicy soup with shrimp) is outstanding, just the way we remember it from our many trips to Thailand -- and we have been known to leave Bangkok Airport between flights just to grab a bowl of Tom Yum Kung at the nearby airport hotel. For breakfast.
So what else do you need to know about Cafe New Pattaya? Well, it is a bar. There is smoking. There are the beeping dart machines. If you crave authentic Thai food, the beeping won't deter you.
Open 1 p.m. to 2 a.m.

Club New Pattaya
1333 Nuuanu Avenue
Honolulu, HI 96817
Phone: 529-0308