Yes, our favorite neighborhood eating place is safe from discovery by the multitudes for one more year. Club New Pattaya has been overlooked again for an `Ilima Award. Never mind that it probably has the best Thai food in Honolulu. And coincidentally -- it is located exactly one block from where we live.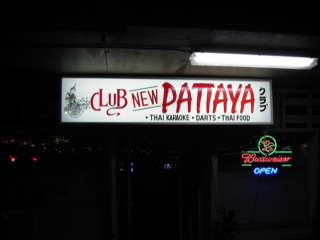 We originally saw an intriguing review of Club New Pattaya in the Honolulu Weekly. To be honest, were it not for the review, we would have walked quickly past, on our way to some Chinatown eatery.
After all, when looking for great food, who would think of dropping into a place with darts, karaoke, TV screens, happy hour and all the other trappings of a typical club?
The Weekly review promised outstanding Thai food and that's exactly what Club New Pattaya delivers. We started with one of the Weekly's recommendations, the fried catfish, and have since worked our way through almost every dish on the menu. Dishes are $8.00 to $10.00, and none has disappointed. They serve Singha beer ($3.50) for the complete Thai experience. Bring cash for the beer, credit cards ok for food.
The Tom Yum Kung (spicy soup with shrimp) is outstanding, just the way we remember it from our many trips to Thailand -- and we have been known to leave Bangkok Airport between flights just to grab a bowl of Tom Yum Kung at the nearby airport hotel. For breakfast.
So what else do you need to know about Cafe New Pattaya? Well, it is a bar. There is smoking. There are the beeping dart machines. If you crave authentic Thai food, the beeping won't deter you.
Open 1 p.m. to 2 a.m.

Club New Pattaya
1333 Nuuanu Avenue
Honolulu, HI 96817
Phone: 529-0308