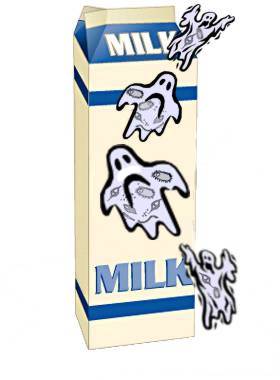 A few paragraphs embedded in Joan Namkoong's excellent article "Farm 2 Table" in the October 2005 issue of Honolulu Magazine should have made everyone afraid -- very afraid. But so far I have not noticed any consumer reaction to the revelation, on page 7 of the article, that
milk sold on Oahu spends at least four days in transit from the Mainland without refrigeration
, and is then re-pasteurized here to make it suitable again for consumption.
First, Joan points out that the brands one finds in supermarkets all come from the same source and plant on the Mainland. So buying a different brand probably won't make a difference.
Honolulu Magazine doesn't have on-line archives, so I can't link to the article. But I'll bet that this short excerpt will be enough to get the chill running up and down your spine:
"What's interesting--and a bit alarming--is that Hawaii-bound milk is pasteurized in California before shipment, then placed in insulated (but not refrigerated) containers for shipment to the Islands, according to Chin Lee, dairy extension specialist at the University of Hawaii's College of Tropical Agriculture and Human Resources. Once the milk arrives at Meadow Gold, a minimum of four to five days after pasteurization, it is pasteurized again before it is bottled.
"Hawaii is the only state that allows repasteurization of milk, says Lee, which can pose a food safety issue."
How do you feel now? Did you drink any milk today?
I'm sure that one can pasteurize most anything and then drink it, but do we really want to do that?
At the Free Range Gourmet we drink organic milk in order to avoid BST, antibiotics and any other evil that might be found in commercial milk. So I was wondering if organic milk brought into Hawaii was also shipped warm, and began calling around. Organic Valley's Quality Assurance Department confirmed that they ship milk chilled--they do not ship their milk warm and then re-pasteurized it. I'll be checking on the other commonly available organic milks: Safeway's organic milk, Costco's Kirkland brand and Horizon. Probably they do not ship warm either.
If you've noticed that a container of milk smells funny or turns bad quickly, or if you think it might have made you sick, perhaps it is related to how it is handled on the way to Hawaii. I wonder if whatever toxins the bacteria produce as they happily multiply during their long ocean voyage remain in the milk despite the re-pasteurization process.
Remember, we're the only state that permits re-pasteurization of milk. Maybe there's a good reason -- or maybe there's a price we're paying in nutrition and/or health.