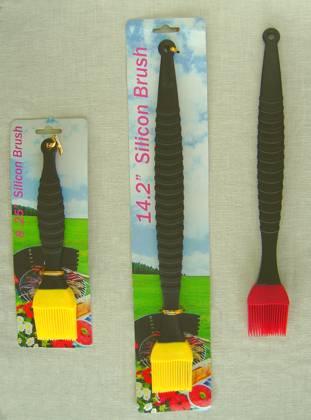 Which is the high-price spreader?
Well, the one on the right was purchased at Executive Chef on one of their 25%-off sale days. I don't recall how much we paid for it, but at a recent visit, similar basters varied from $12.50 to $17.97 and even unto $23.97 (or .95?).
The two on cards were purchased at Marukai's 99¢ shop. Yup, for 99 cents. The business end looks identical, and the handles are virtually identical (not quite, the expensive one is a bit shinier in finish).
Although silicone bakeware and utensils have become the latest rage, I have often wondered if the high price is justified. How much does that spatula cost when it is packed at the sweatshop door someplace in Asia?
Daiei has a $1 shop. The items are similar but not the same. Have fun by visiting both. Daiei may have the edge on plastic baskets of various sizes, which have been essential in organizing the Free Range Gourmet household. The Marukai store has just introduced $1.49 items, so I wonder if the prices will creep up along with everything else these days. Finally, the shelves can go bare until the next boat comes in, so try again another day if pickings seem slim.
Addendum: for those of you who will rush over to the Marukai 99¢ shop to get one of these basters, they did have a few the other day, but The Freerange Gourmet has too many readers, so be prepared to find them sold out. On the other hand, there are plenty of other 99¢ items that you could walk away with in consolation. Most are junk, or won't last long, but others are useful and can be found selling for $2.99, $3.99 or more at Shirokiya or 99 Ranch Market. Many other items can't be found elsewhere.