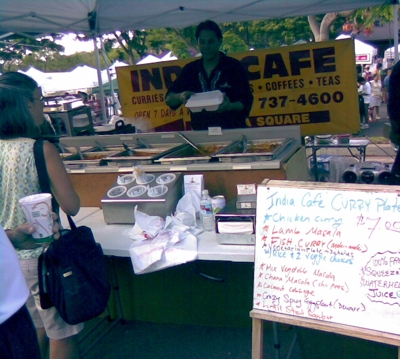 We're fans of the
India Cafe
and have watched them grow at their location in
Kilohana Square
. I remember the great dosai we enjoyed when they first opened and still operated a gift shop adjacent to the small restaurant (they've since expanded into that space). They even had a machine imported from India to ferment their dough. They could make authentic idlis, which took me all the way back to Singapore (without spending the air fare, of course). Idlis are hard to find outside of an Indian home and are totally addictive. So are dosai (the plural of dosa), which can be small or large breads or wrappers made of fermented rice and lentil flour (see pictures at their website).
I bought some lamb masala to take home. It was great to have the scents and flavors of India that evening for dinner.
It seems that their appearance at the market was an experiment, to see how it would go. I hope it went well for them so that they'll be back.
If you're also an India Cafe Fan, or if you'd like to see them back at the KCC market, visit their website and maybe give them a call (737-4600) to encourage them.