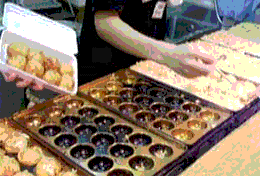 Photo: www.takoyaki.org
For two more weeks (June 14-26) you can watch
takoyaki
being made and try them yourself at
Shirokiya
in Ala Moana Shopping Center.
Takoyaki
is more than food in Japan, it is a street spectacle. Children and adults crowd around the
takoyaki
makers at shrine festivals, in department stores, or on the streets and watch them make a whole tray at a time. Best eaten moments after they are made, they are soft round dumplings with a decent-sized chunk of octopus inside.
Probably most popular in Osaka, this fast food treat can be found most anywhere in Japan. Here's your chance to save some airfare and have it right here in Honolulu (I'm told they may also be available at
Minato Japanese Restaurant
).
To get a sneak preview, check out a website with some movies of takoyaki being made:
www.takoyaki.org
. Or read more about it at:
Nipponia
.
When we lived in Tokyo we would occasionally visit a shop in Shinjuku that specialized in
akashiyaki
, which are very similar but served with a bowl of
dashi
(simple soup broth). Probably
akashiyaki
was the origin of
takoyaki
.