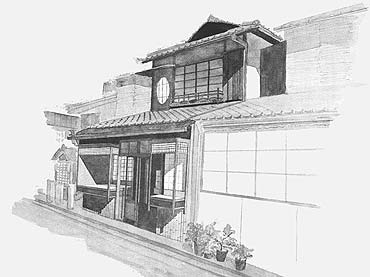 When we lived in Japan, we visited Kyoto frequently. We always stayed at the same Japanese inn, on a street called Ishibei Koji in Higashiyama. The directions to the inn in the guidebook began, "get off at the Higashiyama-Yasui tram stop..." and walk up the hill. Well, the tram was discontinued as the interior of Kyoto succumbed to the creeping concrete junglization that has consumed most cities in Japan, but the taxi drivers still knew where the tram stop was, so we continued to use those directions, even when the tracks were finally torn up and the street repaved.
Walking up the hill was to go back in time 150 years. The sounds of the city gave way to the clatter of geta (wooden shoes). (Well, sometimes.) And the nightmarish concrete buildings of the city center yielded to age-softened wood, inns and machiya, the traditional townhouses of the city's merchants.
At the top of the hill one turns right, and then at the corner where the tsubaki-mochi shop is, turn left. The narrow, cobblestone street is Ishibei Koji, and part way up on the right side was the inn.
The little shop that made tsubaki-mochi, a kind of Japanese sweet wrapped in camillia leaves, was run by an elderly couple who lived behind the shop. I am not sure which of them passed away first, but one day there were no more tsubaki-mochi in the show window.
Sure, one could buy them elsewhere, and they are displayed in the basement food halls of every Japanese department store in season. But none can compare to the wonderfully fragrant tsubaki-mochi we purchased from the shop near the inn.
Fortunately, Japan is a country that has clung to its culture despite the inroads of modernization. Japanese sweets like tsubaki-mochi are low-calorie treats and remind Japanese people of the change of seasons. But will there be fragrant tsubaki-mochi for future generations, or only the department store plastic variety?
Slow Food to the rescue.
"Animals aren't the only thing that can become endangered. Imagine your favorite sweet treat-the one that makes you dream and drool-gone forever, extinct like the saber-toothed tiger and Tyrannosaurus rex. What would life be like without a yuzu citron flavored dumpling or a cherry leaf-wrapped rice cake?"
Read the Asahi Newspapers article
here.