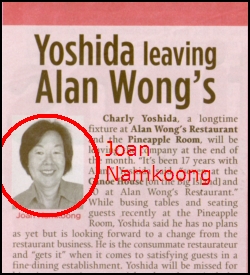 Yes, I've discovered gold right here on our city streets -- in the Downtown Planet newspaper boxes. Joan Namkoong's page now appears every week. It's a gold mine of mouth-watering information.
There's inside information on chefs, restaurant and farmers' markets, a comprehensive list of food-related events for the week, and a topical feature article. Joan takes us behind the swinging doors to reveal the doings of our star superchefs, their projects, travels, and plans.
The issue I've clipped mentions two new restaurant openings in my own neighborhood with a preview of what they'll be serving, and another at Ward Center that I'll be beating a path to as soon as the doors open.
There's also a stop at Fort Street Bar and Grill for some chicken (Joan mentions mochiko, spicy, chili orange, oyster sauce, shoyu, mushroom, miso and teri, hoisin, lilikoi barbeque, marinara and katsu). This is also close by, so I need to check it out. Soon.
I think this is the best food writing you'll find in Honolulu. Now it's weekly, and available for free! Just find a Downtown Planet newspaper box or rack and grab one. Check it out and see if you don't agree with me. Yum!