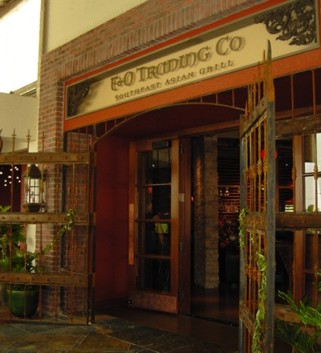 We eagerly soaked up the decor as we were led to our table this afternoon for our first visit to
E & O Trading Company
in Ward Center. There's an attractive bar, and the entire space is filled with baskets, bird cages, 4-tiered Burmese lacquer boxes, fabrics, umbrellas and woodwork. Well done. There's a glass door through which one can see into the kitchen, and a shelf with the right kind of
nampla
(Thai fermented fish sauce), Shao Hsing Chinese rice wine, and other very proper ingredients on display facing the dining area. Nanette and I noted that the lighting above our table was carefully framed to illuminate the tabletop only and did not glare in our eyes. It was a cool, low-glare, comfortable dining space. The wait staff was courteous, friendly, knowledgeable and attentive.
Now on to the food.
Wanda Adams'
review
of chef Barney Brown's version of the Burmese ginger salad, lap pat dok (authentically made with fermented tea leaves) indicates that Brown adapted it from a version he tasted at San Francisco's Burma Superstar restaurant. On the road to Honolulu, the salad lost its tea leaves (Burma Superstar hand carries them from Burma, I understand). That's ok, it's a variation. But we found that the salad also lost its ginger. Both ginger and garlic flavors were so subdued that this salad was no superstar at all.
Nanette has a clear memory of the ginger salad we enjoyed in Pagan. Of course, that was the genuine unadapted article, prepared for us by people who enjoy it all the time. That meal, along with our tour of the ancient ruins (before the devastating earthquake damaged many of the pagodas), will remain among the peak experiences of our lives.
There's no point comparing this salad with the Burmese original, which it does not resemble. It really isn't lap pat dok without the mound of fragrant tea leaves, the centerpiece of the dish. It has to be considered on its own. Adams notes that this salad adds green papaya and substitutes garlic oil for labor-intensive fried garlic slices, and includes Napa cabbage for body. We were simply disappointed -- without detectable ginger, and without the pungent garlic, it was a good enough cabbage salad, no more.
At E&O one is supposed to try several small dishes. Our second was Indonesian Corn Fritters. This seemed promising, but the corn wasn't sweet and may not have been fresh. Corn is not exactly in season, but that's no excuse. Instead of serving a second-rate dish if ingredients can't be obtained, it might have been temporarily retired from the menu. This looks like a simple dish I might like to prepare at home when sweet corn appears again at the KCC Farmers' Market. I Googled for a recipe and found several out there on the 'net.
We also had Panir Naan. No resemblance to the Indian bread which is best baked stuck against the side wall of a Tandoor oven, this was more like a white-flour pita and was a bit doughy and undercooked. We mentioned that to the waiter because at least here was something that might be corrected in the future. The panir was there, but just barely.
Our final dish was the winner. We tried the Smoked Mero (sea bass), which was soft and flaky and served with bok choi and Japanese pickles: daikon, ginger, and cucumber. It was smoked char siu-style, bright red, and was attractively served and simply prepared, very appropriate to this tender white meat fish with a mild flavor.
Bottom line: for the $40+ meal (no drinks), we could have fared better elsewhere.
E&O Trading Company Honolulu
1200 Ala Moana Boulevard
Ward Centre Building 4
Honolulu, HI 96814
(808) 591-9555
Sunday-Wednesday 11 a.m.-11 p.m.
Thursday-Saturdays 11 a.m.-2 a.m.