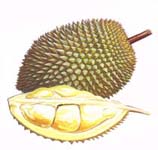 For a few short moments Saturday I was magically transported to Singapore. Arriving at the KCC Saturday Farmers Market, I dropped Nanette at the entrance and parked the car. On opening the door... the unmistakable scent of durian wafted me back to Singapore's Rochor Canal, where I used to practice my skills at buying this so-called "King of Fruit".
Durian is a fruit whose soft, creamy yellowish pulp, described as tasting something like custard and strawberries, is contained in an outer husk that exudes a distinctive odor. It's a smell that divides humanity into two parts: those who run toward a durian fruit when they detect that irresistible aroma, and those who run away as fast as they can.
In Singapore, a country of durian-lovers, it is nevertheless against the law to carry durian onto the subway, punishable by a 500 Singapore dollar fine and five strokes of the lash. I'm sure this extreme fruit would dismay tourists, but it might equally provoke displeasure among riders who are headed home without any. Even poor people will find money to buy durian once and awhile, and for all I know, the rich folks gorge themselves on it all the time.
In some countries it is believed to have phenomenal aphrodisiac properties. It is thought to be a "heating" fruit unlike others, and you're not supposed to consume any along with alcohol lest you die. Many people who don't care for the aroma will persevere in order to enjoy the fine qualities of the fruit ("It smells like hell and tastes like heaven").
It can be found throughout South-East Asia as the fruit alone, or in confections or drinks (McDonald's sells a durian shake in Singapore!). In the Philippines I'm told one can find magnolia durian ice cream. I'd love to have a chance to try that...
<pop!> ... my cellphone ringing snapped me suddenly back to KCC market.
It was Nanette -- yes, there are durian fruit, run, do not walk, to the Wailea Agricultural Group tent, where there are only a few left. I was already on my way.
Indeed, there was only a small box with four fruits left. In Singapore, haggling over the fruit can take ten minutes or more, but here, I had to use my durian-selection skills to make a snap decision. Someone else was already going through the box and in just a few minutes they would be sold out. WAG was passing out samples in front of the tent, creating instant durian lovers who would soon be converging on the few fruit left.
I'll share a few of the secrets of picking a decent durian with you. First, as with other fruits, check the stem for dryness or rot. One wants a fresh fruit. Sniff it for an off-scent (this takes experience, but you have to start sniffing to learn what's good and what's not). Don't choose a fruit with black areas, the pulp inside will be spoiled. Don't pick a fruit which is cracked, the pulp inside will likely be dried out. Since each fruit has five compartments, pick a fat heavy one, which indicates that there is lots of pulp inside.
Well, I didn't have any choice. The best fruit I found had a few fine cracks, which I convinced myself must have opened on the way to market, so maybe it's ok. There was a small black area, but everything else about this one was good otherwise... beggars can't be choosers. I had my hand on another one (durian buyers keep hold of candidate fruits lest someone else grab it away) but decided this was it, so I let the other one go and hefted my choice out of the box.
There's no haggling at the KCC market, though, and herein lies a problem. In Singapore a vendor will sell out completely each day, so it's only a matter of how much cash can be extracted from the customers. A vendor will sometimes cut out a small rectangle and let customers peek in to see the quality of the pulp (don't buy one of those!!). Customers, on the other hand, want to get the fattest, most delicious fruits they can, and of course pay as little as possible for it. This leads to all kinds of strategies, including keeping your grip on a number of fruits while describing how poor in quality they really are. Of course, everyone knows what you mean, so you can't let go of one, because it will be snapped up by someone else eager to find out why you are protecting it so carefully. It's quite a game.
But not at KCC. I paid for the fruit, my mouth literally watering in anticipation of cutting it open as soon as we got home (which is what we did). But it hurt. I need to say that it was more than double the cost of the frozen durian one can find in Chinatown. And the ones in Chinatown, even though they were frozen, can be pretty darn good. Durian is flash-frozen and keeps well, though fresh is of course much better still.
My choice worked out well, it was a fine durian. We ate part of it right away and wrapped the rest in Saran for dessert.
If they have this fine fruit again, please consider trying it. To open your prize when you get it home, take a heavy knife and cut between the spikes (be careful, they are sharp!). Then pull it apart carefully but strongly. With experience you will be able to see where the five inner sections divide so that next time you'll have a better idea where to cut. Using two towels or silicone oven mitts helps pull it apart without lacerations. Once inside, very carefully lift the pulp, which includes a large seed in each section, onto a large plate. It's easy to pull apart the other sections once you have gotten into the thing. When all the pulp is out, put the husk into a plastic bag or two and get it out of the house.
Now, enjoy.
If you'd like to try the frozen, the same selection criteria apply. Look for them at Hing Mau on Maunakea Street at about $1.09 a pound, which is a bargain in my view. Google "durian" on the web and learn about the varieties and pick up other bits of durian lore to spice up your enjoyment.