Where else but at the KCC Saturday Farmers' Market?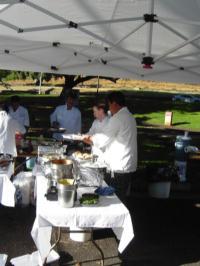 Here's a pic of Chef Rodney Uyehara of The Bistro at Century Center cooking up last week's breakfast: Bistro-style Eggs Benedict with toasted brioche, Madeira glazed jambon, salmon potato hash, fried egg and citrus hollandaise.
The eggs were cooked to order towards the rear of the tent and then the dish was assembled as it passed down the line of chefs. All was served at precisely the correct temperature. A very special dish.
Nanette and I enjoyed our breakfast feast at one of the tables on the grass which the market folks have thoughtfully provided.
And would you believe -- only $5. What a deal!
Plan ahead
Our strategy for last Saturday was to get to KCC early and split up to be sure of getting the most essential produce. Nanette lined up at North Shore Farms to be sure of getting her pick of the heirloom tomatoes. I joined the crowd at the breakfast tent, since I needed to leave early that day. A cell phone is an essential tool for proper coordination, of course -- as soon as I had breakfast in hand, I rang her up, and we met at the tables. A quick trip for fresh squeezed espresso coffee at Koko Crater Coffee Roasters. Since the table seats six, we made new friends and all enjoyed our gourmet breakfast while talking story -- recipes, which tent has something really special, how much we like our Saturday morning "happening".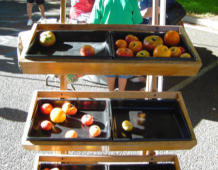 Good thing we planned ahead. A few minutes after 8 a.m, the tomato shelves were getting bare. The word on these great tomatoes has obviously gotten out.
Who could go back to those stange pink things in the supermarket after munching on a real tomato? THIS is what tomatoes are supposed to taste like. Once you've become used to them, there's no going back.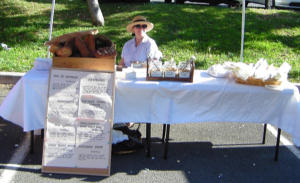 On my way back to the car I noticed that there was a clear shot of Kate (Pacific Rim Catering) sitting behind her table of artisanal breads. Usually there's a crowd and I can never get an unobstructed view. Stop by -- there's always something to taste, and each bread is hand-made. No fluffy white stuff, but real bread with the aroma and taste of wheat and other whole grains.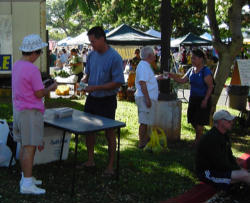 Finally, as I was about to return to my car, I spotted Greg Yee of Blue Lotus Farms under a tree near the main gate. No tent, no sign. Just a table and a cooler with the freshest free-range eggs you can get on the island. You gotta be in the know. A quick cell phone call to Nanette and she was in possession of a treasure trove of these tasty jewels. He doesn't have enough to fill demand, so it's best to reserve yours for the next time he plans to be at the market. That evening we enjoyed a Japanese dinner, including young okra (Souane Farm) blanched, sliced and served with ponzu and topped with a raw egg yolk.