Who would have known...
In mid February we became intrigued with the idea of having some bees around. Imagine... honey, wax candles, mead (mead or honey wine is the oldest alcohol containing drink known) or pyment (pyment is made from a blend of honey, grape juice or extract and water with a strong honey character). Dr. Michael Klicks was interested in having a hive over in the part of Manoa where we live, and we were interested in learning more about bees and learning to live with them.
First thing was a test hive. Just an empty hive with some combs and honey. This would attract neighborhood bees and indicate what kind of "action" was around. The neighborhood bees moved in right away, and in just a few days they were coming and going.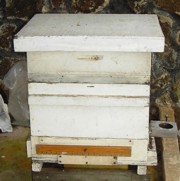 Next, Michael brought over a real hive (see picture), with a queen bee and her entire retinue. We joined the Hawaii Beekeepers Association and began to learn about bees.
The bees were, well, busy -- there are mango and lychee trees nearby, and they even brought back strawberry guava pollen from the mountains.
Then the phone rang. After eight years in this house, we were getting kicked out. The owner needed to put a relative in it. I guess she couldn't find a house in this tight rental market. Or maybe putting in a beehive, with the expectation of settling in and becoming real beekeepers one day was a jinx.
But yikes! We couldn't find a rental we could afford either! Tiny little houses were going for far more than we were paying, and they were going fast! It turned out to be the tightest market in many, many years.
So the bees were taken away. They have a new home somewhere else in Manoa. (Lucky bees!) And we have a new home (see picture).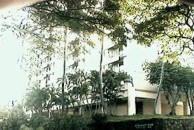 We have become owners of an apartment in a condominium. Note the similarity in the two pictures. Yup, we will be moving into a hive for humans in just a few days.
The kitchen is a quarter the size of our current kitchen. Sigh. We'll get used to it. At least Nanette can keep some herbs on the tiny little lanai.